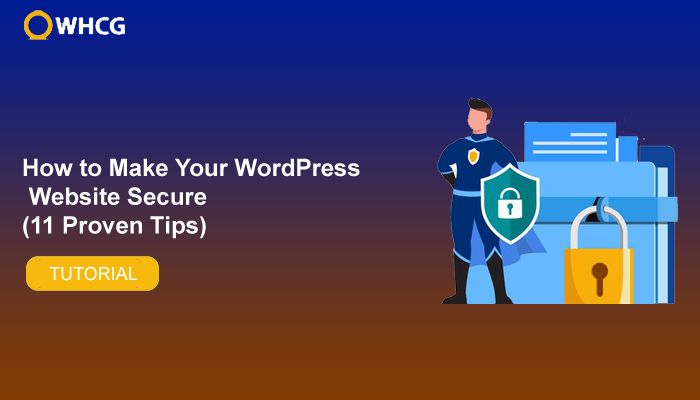 Do you want to know how to make your WordPress website secure?
WordPress is the most popular CMS (Content Management System) that powers over 42% of all websites on the internet. However, its popularity also makes it an attractive target for hackers.
WordPress is now the most used platform by some of the most visited websites on the internet, thus, making it more than vulnerable to hackers and attackers worldwide.
But you need not to worry as we will be sharing with you some of the easier ways you can use to secure your WordPress website.
Let's dig in.
Let's start by looking at each of the ways one by one.
1. Use Secure WordPress Hosting
WordPress hosting plays an important role in securing your website from attacks. A weak hosting provider makes it easy for hackers to break into your website; so secure hosting is important.
The two most common types of hostings used are Shared and Managed.
In shared hosting, providers like Bluehost and SiteGround offer great hosting services that include:
Latest Version Support
PHP Version
24/7 Security Monitoring
SSL Certificate
and more.
Similar to shared hosting, managed WordPress hosting providers also offer features such as:
Automatic Backups
Free SSL
Automatic WordPress Update,

And more advanced security features that you can use to protect your website.
If you ask us, we would highly recommend using WPEngine.
2. Keeping WordPress Plugins and Themes Updated

WordPress plugins and themes are the #1 risk for WordPress if you are not careful about:
Using plugins that are maintained by the developers
Removing plugins and themes that you no longer require or use on your website
Not turning automatic updates "on" on your website
Using plugins that are nulled
WordPress updates are crucial, and you need to make sure that you update your WordPress website regularly.
3. Take a Regular Backup
Backup is the best way to secure your website when something is broken or hacked.
When something wrong happens on your website, you can restore using the last backup. As a result, you do not lose out on your traffic and sales.
There are many free and paid WordPress backup plugins available on the WordPress repository. You can choose any you like. Personally, we recommend going with UpdraftPlus or BlogVault.
They're both reliable and easy-to-use plugins, and the best part is that you don't need to hire any WordPress expert to set up these plugins.
4. Use WordPress Security Plugins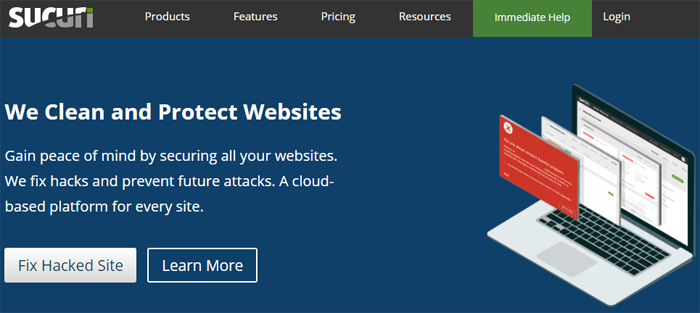 Using a WordPress security plugin is another great way to add an additional security level to your website. Hackers worldwide are continuously trying to look for any loopholes to attack WordPress websites.
Sucuri is a great example. It measures all the security aspects, including
file integrity monitoring,
failed login attempts,
malware scanning, and more for your website
The plugin is free and easy to use. You can also buy the premium version of this tool to use some advanced features such as
malware and hack scan frequency,
advanced DDoS mitigation,
CDN performance, and more power tools.
5. Change the Default "Admin" as a Username
If your username is easy to guess, then the hacker only needs to figure out the password.
An earlier version of WordPress used admin as a default username, and this made it easier for hackers to launch brute-force attacks.
But in recent releases, WordPress allows users to use their custom username; however, some people still use "admin" as their username during the installation process.
6. Use Strong Passwords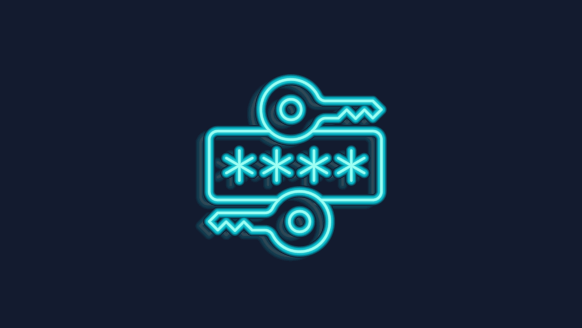 You need to use strong and unique passwords for your WordPress admin login and your hosting account, FTP, and database.
This is one of the easiest ways to keep your WordPress website secure.
We know that remembering a strong password might be difficult, so we recommend using password manager tools.
You may also reduce this risk by keeping WordPress admin details to yourself. If you have a large team, you can assign different user roles to provide them with limited access.
7. Change Default Login URL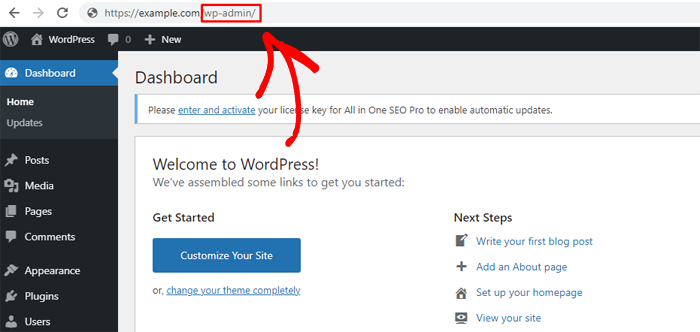 By default, the WordPress login URL is https://example.com/wp-admin or https://example.com/wp-login for every website. Most website owners don't change this URL, and as a result, hackers start using brute force attacks by trying combinations of usernames and passwords.
Adding a custom login URL in WordPress can help you improve your WordPress security and offer your visitors a better experience.
8. Limit Login Attempts
By default, WordPress allows visitors to log in as many times as they want. This is easy for hackers to attempt a different type of login combination so they can easily hack your website.
To avoid this situation, you can install a plugin like Login LockDown. This will limit brute force login attempts automatically.
After installing and activating this plugin, navigate to the Settings » Login LockDown page to set up the plugin.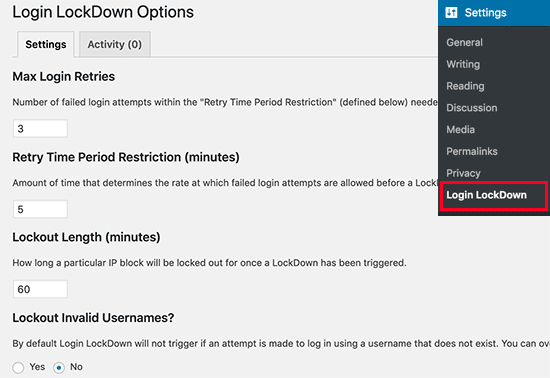 You can use the settings above to limit the number of login attempts on your website.
9. HTTPS SSL Certificate
If you're not using SSL (Secure Sockets Layer) certificate on your website, you'll be marked Not Secure in the Chrome URL bar.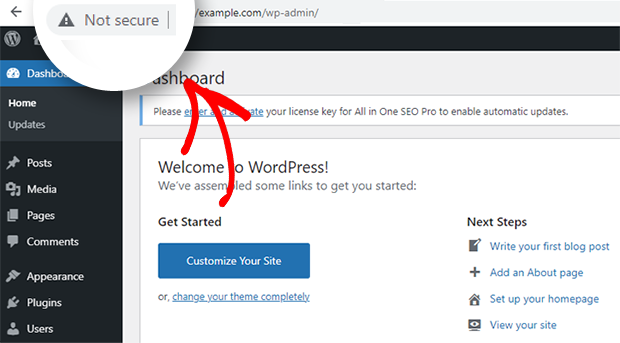 SSL gives your website a ton of benefits, including security. One major benefit is that Google may give you a slight ranking boost in search engine results.
It is easy to get an SSL certificate for your website. Here are the three most commonly used ways:
Let's Encrypt
Purchase from a hosting provider
Purchase from a 3rd party like Domain.com.
10. Add Two-Factor Authentication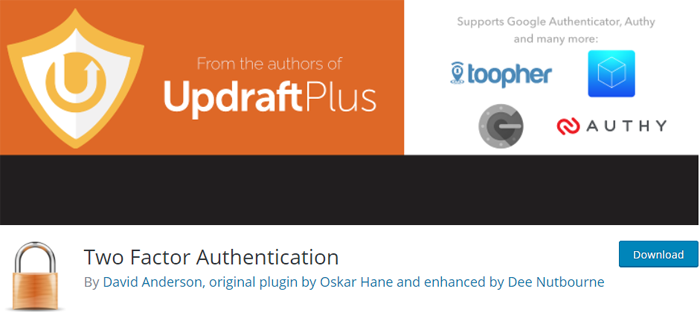 Have you noticed how popular websites like Facebook and Gmail use two-factor authentication?
Two-factor authentication requires login with two steps:
Add your username and password,
Add the code that you receive on your registered phone number or email address.
To add this extra login security to WordPress, you will need a plugin like Two Factor Authentication
11. Choose a Stable Theme

Choosing a stable theme for your WordPress website is important. Before you choose a theme for your website, make sure:
It is recently updated
Stable for your current WordPress version
Well rated and reviewed by users
Cross Site Scripting, more commonly known as XSS, is one of the most common threats found in unstable themes. XSS allows an attacker to
carry out any actions that the user is able to perform,
access the user's data,
Gain full control over all of the application's functionality and data.
It's quite difficult for beginners to find a stable WordPress theme. To assist you, we recommend choosing a good ratings and reviews theme, like Divi and Astra.
That's all!
We hope you've learned the easiest to deploy 11 tips to secure your WordPress website and protect your business from hackers. Be sure to let us know if you need any help with any of the tips mentioned above or would like to add any of your own to assist the community!
You can also check out our guide on How to Increase Organic Traffic to Your Website and Best SEO Content Checklist to make your site SEO-friendly.