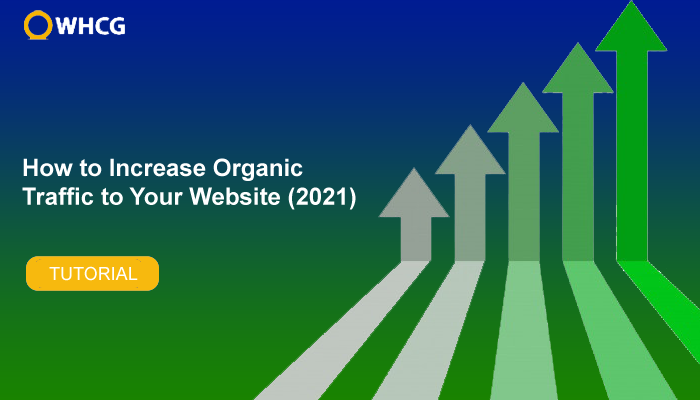 Do you want to know how to increase organic traffic to your website?
Users landing on your site from a search engine have a very specific intent and are looking for a solution. If you are able to provide them a solution, they are more likely to convert.
In this guide, we've listed the 15 best tips that you can use to increase organic traffic to your website and boost search engine result rankings and sales.
Since this is a comprehensive post, you can use the quick links below to jump to the sections you want to read:
1. Install an SEO Plugin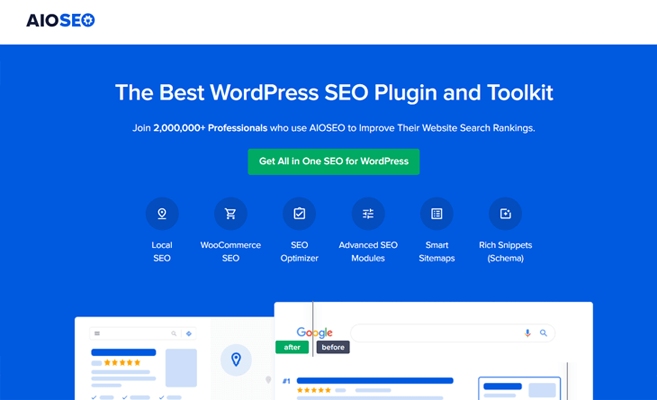 Search engine optimization (SEO) allows search engines to understand your website content so that it ranks higher in search results.
There are many free and paid WordPress SEO plugins that you can use to optimize your WordPress website. However, you can use AIOSEO, the best WordPress SEO plugin that offers all features that help increase your organic traffic.
You can set up the plugin yourself in less than 10 minutes without hiring a WordPress expert.
2. Create a Blog
Blogging is the best way to drive organic traffic to your website.
The idea is to use the keywords that users search in Google within your blog posts, so the blog posts rank higher in the search results. This increases the volume of traffic that Google sends to your website.
So, what type of blog post do you need to create?
Well, it depends on your target audience.
You can create different types of blog posts that can help the visitors:
Informative posts
How-to posts
Tutorials, setup walkthroughs, guides
The process of creating top-ranking posts is simple:
Find the right keywords.
Analyze what the competitors have written.
Produce content that fills in the gaps.
Check out the WPBeginner blog, the most comprehensive resource for WordPress beginners with easy-to-understand tutorials and guides.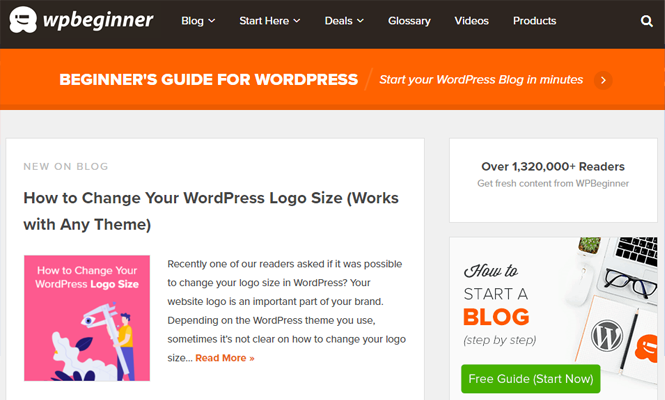 Looks good, right?
3. Add Relevant Keywords to Your Pages
Adding relevant keywords is the most basic requirement for driving more traffic to your website. This requires you to conduct a detailed keyword analysis to have a list of keywords that best drive the traffic.
As you can imagine, keywords play an important role in optimizing your website and increase more organic search traffic.
You can manage keyword research with popular keyword research tools that provide deeper insights into discovering the right keywords. We recommend using SEMRush, a great tool used by SEO experts around the world.
Now, let's take a look at something exciting!
4. Create an Attractive Title Tag and Meta Description
In a typical Google search engine results, the users see the title and description for each post or page.
Here's an example:
Adding a great title and description is important when you want users to click on the link. With every click adding up, the volume of organic traffic goes up at your website.
Tips For Writing Great Meta Title and Description
Make it catchy and attractive.
The meta title and description should have the focus keywords
Do not use more than 60 characters for the title and 160 for the description
Write for humans, not robots
Make each title unique
Adding the current year to the SEO title and description is super easy when using the All in One SEO (AIOSEO) plugin.
To get started, you simply scroll down in the post or page you're editing to the AIOSEO Settings and add the title and description there.
See the quick example: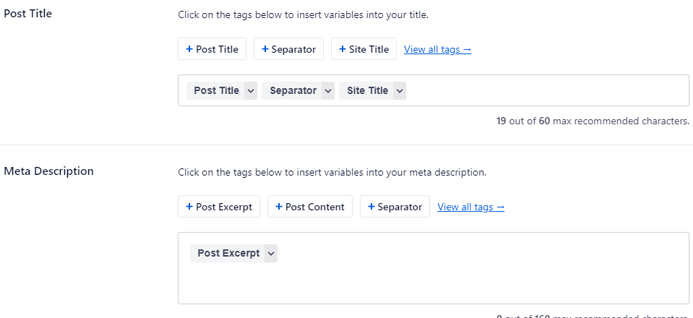 5. Learn to Write Great Headlines
The headline is the first thing a visitor sees, and if it's not attractive, many of them will leave without reading any further.
Writing catchy headlines is a great way of capturing and retaining the attention of the visitors.
Well-written headlines are very important in increasing organic traffic to your website because they are often the only part visible to the visitors.
Bonus Tip: Use power words in your headlines to influence the visitors. For more details, check out the guide on 700+ power words that will boost your conversions
Before publishing the post, think carefully about the headlines. You can also use the following free headline analyzer tools to come up with better headlines:
6. Make Your Content Readable
These days, internet users have a short attention span. As a result, visitors often skim pages in order to see if they should read in full.
If your content is not easy to read, the visitors will leave your website. You need to make sure your content is properly organized into sections that visitors can skim and read if they think it's useful.
To make your content readable, you can:
Keep your sentences short, and using fewer sentences per paragraph.
Use white space to separate content blocks.
Opt for large readable fonts that don't hurt the eyes.
Line spacing is an important design aspect that significantly improves the readability of the content.
Use images and videos to separate content blocks and add visual breaks.
Make sure there are no grammatical errors. There's nothing more dangerous than incorrect usage or a misspelling.
With AIOSEO, you can easily analyze readability issues and see suggestions for improving your content in the Page Analysis section.
You just need to click the Readability tab, and it will show a list of what needs to be improved.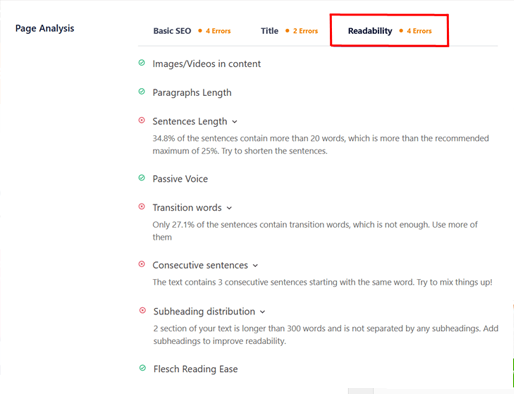 7. Update Old Content
When you consistently produce content, you discover that most of the written content gets outdated over time.
As a result, you see a drop in traffic and ranking. The situation gets worse as the competitors create newer content with fresher stats and images.
As you can imagine, updating old content is the best way to keep your visitors engaged and drive more traffic to your website.
When updating content, you need to focus on the following aspects of content:
Outdated content
Old images and screenshots
Publishing dates
The structure and the readability of the content
Older configuration details
8. Merge Similar Posts
There could be a lot of reasons to merge similar posts. Usually, you can merge posts when you think the posts have similar topics or structures.
For Example, you've two posts – the first is about WooCommerce SEO plugins, while the second is about WooCommerce SEO tools.
Check: Shopify vs WooCommerce: Which Is Better for Your Store? (Comparision)
Now, these two are very similar, and the chances are that both posts feature similar plugins. There's a chance that one of these posts would rank higher in search results.
A better strategy would be to merge these two posts and come up with something like this: best WooCommerce SEO plugins and tools.
We showed both plugins and tools so that readers can find both ideas in the same article.
9. Promote Content in Online Communities
Writing a blog post and publishing it on your website is not the only way to drive more organic traffic. Of course, you need to do more of that to build the website's reputation.
However, users can not find the content until you promote it in communities where your target audience can utilize it.
Some good options include:
Slack
Facebook Groups
LinkedIn
Twitter
YouTube
WordPress Forums
When promoting your content, be careful of the rules and observe the post limits. You need to make proper headlines and descriptions that attract people and bring them over to your website.
Here's a quick example:

10. Add Images and Infographics
People prefer to consume information in a visual format. As a result, you'll see graphics in the form of videos and images all over the internet. Using images in your blog posts is a great way of retaining user attention.
Now ideally, you should create your own visuals (both images and videos) to use in your content. However, if that is not possible, you should be very careful in using the visuals created by others. Always ask permission or search for visuals released under the Creative Commons license.
Another important issue is the size of the visuals. You need to make sure the size of the visuals is as small as possible. To compress your images, you can use free services, such as:
TinyPNG for PNG and JPG files
CompressJPEG for JPG and JPEG files
Optimizilla for PNG and JPEG files
This can reduce your image file size by 70% and more, which will have a huge impact on your site speed.
Let's take a look at a few things you can do to increase your site speed without requiring the services of a web expert.
11. Optimize Website Speed for Faster Page Load
Nobody likes a slow site. If your site speed is greater than a few seconds, the chances are that visitors would leave your website and land at your competitors.
Search engines like Google also consider website speed and page load time as one of the important ranking signals.
To make sure your website loads up as fast as possible, use the best WordPress hosting and caching service like WPRocket.
For more detail, check out the How To Build a Website From Scratch in 2021.
12. Generate More Backlinks
Backlinks are links on external websites that point to your content. These links are considered an upvote for your content, and Google considers them a very strong search signal for ranking websites.
As such, you should always try to build or get new backlinks to improve your backlink profile.
Here're a few tips for building quality backlinks for your website:
Contact popular blogs and ask them to link to your website (or a blog post)
Publish guest blogs at popular websites
Network with influencers and website owners to interview and chat sessions. They're more likely to ask their followers to share these types of posts.
Leverage social media platforms to increase the website's link profile.
13. Collaborating With Other Brands
Many businesses have a similar target audience. For instance, in the WordPress industry, you can find a lot of top-ranking blogs that cover a wide range of aspects from development (for instance, BuddyPress) to user training (for instance, WP Beginners).
So if you have a WordPress-focused business, you can work with these blogs to present your offers to the audience of these blogs in the form of ads and guest posts.
14. Use Social Proof to Get More Traffic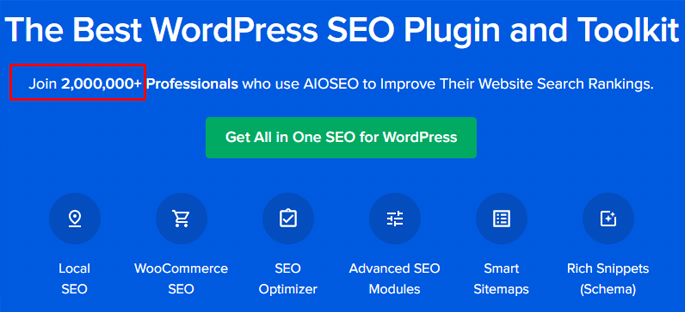 Social media has emerged as a very powerful channel for building the reputation of your website. We're social animals who prefer to ask the opinion of our peers. Hence, social proof or the opinion of friends and family is a powerful way of growing traffic on a website.
You can use social media channels and emails to promote your website to users who share it with their friends and family.
Here're a few tips that you can use to leverage the power of social proof:
Ask your customers to leave feedback that you can use as testimonials on your website.
Collect user feedback through forms and share it on your social media profiles.
You can ask your users to share your blog posts with their social circle.
15. Track Your Website Traffic and User Engagement
It's important to know where the visitors are coming from and what do they do at your website. Similarly, you should keep a close eye on the pages and posts that are losing traffic so that you can pick them up for content and design improvement.
You can get all this information from an analytics platform such as Google Analytics. However, you can get more detailed information from a WordPress analytics plugin that connects to Google Analytics and present the information in an easy-to-understand manner.
This is where the Monsterinsights comes in.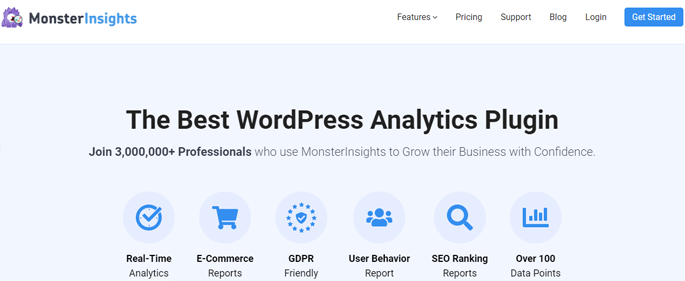 It tracks your website visitors and helps you see traffic reports, engagement, and other user activity on your website.
That's all!
We hope you've learned the 15 best tips to increase organic traffic to your website. Use these powerful tips, and you'll boost rankings in search engines and grow your organic traffic at record speed.
You can also check out our guide on Best SEO Content Checklist and boost your website SEO.