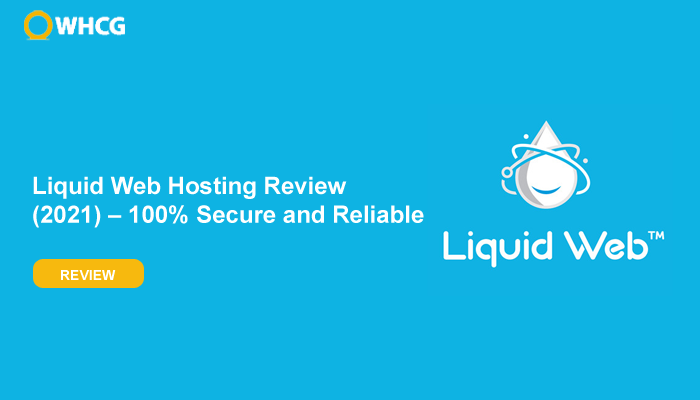 Are you looking for reliable and secure hosting for your business?

Over the internet, you have already gone through a bunch of hosting companies' reviews. Most of them attract you and you are also willing to opt for that hosting provider. But the point is, it takes time to build trust on the hosting services. Because when you are sleeping the hosting service would be the one who takes care of your web application.
Today, we are writing this blog to give you a Liquid Web hosting review that started in 1997 and now has become the leader of many hosting services.
So, give it a full read.
What Is Liquid Web Hosting?
Liquid Web hosting is a backbone for digital owners and has helped them achieve their goals for decades. Liquid Web offers more than 10 services with absolute satisfaction. Therefore, they have a huge number of customers which are more than 45,000 across the globe with the top positioned data centers.
Let's quickly have a look at their major services and how they do it.
Managed Dedicated Server Hosting
Liquid Web offers high-performing and customizable dedicated servers. The dedicated servers are available with Windows and Linux operating systems. These dedicated servers come with Proactive Sonar Monitoring and ServerSecure hardening.
Apart from that, you can also choose any Liquid Web hosting plans of the dedicated servers among self-managed, core-managed, and fully managed dedicated server hosting plans depending on your business requirements.
Managed Cloud Servers
Launching a Cloud server seems really daunting and painful, but that's not the case with Liquid Web. You don't have to worry much about the cloud infrastructure because they help you with configuration and deploy your solution as per your requirements.

In the future, your business scales and you need a bigger environment. Don't worry, their Hosting Advisors help you to design a robust cloud environment from scratch.
Managed VPS Hosting
If you are looking for secure, powerful, and affordable managed VPS hosting, then you are at the right place. Liquid Web's managed VPS hosting provides you with the power of a dedicated server and the flexibility of cloud hosting. This is something which is not really easy to find out.

On the other hand, if we talk about the Liquid Web pricing plan, it starts from $15 per month.
Ecommerce & CMS Hosting
Liquid Web Hosting is a perfect choice for your upcoming ecommerce or other CMS projects. Following are the 3 top applications that supports by Liquid Web:
WordPress
WooCommerce
Magento
All of these applications are backed by the latest PHP versions and controlled by NGINX for better server performance. Besides, they also help with the latest plugin and extensions for your web application. Other than that, if you have any queries the support team is always active to help you.
Enterprise Hosting
Bring the most complex solutions, Liquid Web is there for you to make it possible. They have a dedicated process to offer enterprise hosting and run through 5 different processes.
Consult
They work with your team to understand complexity and technical requirements.
Architect
The domain expert solution architect builds the solution for you and tests the environment as your business needs.
Migrate
They will also help with your application migration, if hosted somewhere else.
Manage
One of the Customer Success Manager will be aligned with your team along with a support expert to make your journey successful.
Grow
It doesn't stop here. The team helps you with proactive planning and escalates on how to grow further.
Noticeable Features From Liquid Web
With a massive range of web hosting services. Liquid Web never compromise on their web hosting features and ensure maximum possibilities to excel your businesses.
Ironclad Security
Security is one of the most keen concerns of every online business owner. Therefore, all plans by Lliquid Wweb are compatible with optional service addons for the plan or within your CMS (like WordPress). These security options include SSL, malware scanning, firewalls, IP blacklist and whitelists and much more.

If you are using WordPress or Joomla, you can also add an extra layer of security within the Liquid Web platform. Besides, you can also use iThemes Security Pro to take your site security to the next level.
Backups
Liquid Web also offers free daily backups with almost every plan. Backups are crucial to protect you from any uncertainty. For suppose, you made some changes and it didn't work for you as you expect you can revert to it any moment.
Uptime
The good thing about Liquid Web is that it offers a 100% uptime guarantee on certain products. If something happens and you face a downtime issue. As per their promise, you can avail a credit of 10x the amount of time you were down.

That's really awesome and highly appreciable!

Not only that, Liquid Web offers a 30 minute hardware replacement guarantee as well for dedicated server customers.
Active Support
Getting a potential customer is a real hustle. But the point is the journey never ends here. As a business owner you need an active and technical support team that should be available for you to help you.

Again, Liquid Web Hosting takes a lead here by providing customer support 27/7/365 for all the customers. Liquid Web has named their support service as "Heroic Support" and ensures all the technical support team is available to entertain the customers in less than a minute on chat.

Whereas, the ticket response takes around an hour.
Data Center Locations
Liquid Web has its own data center and we think this is what makes them a top-notch hosting provider. They have data centers in 10 different locations like US-Central, US-West and EU-Central. All of the data centers are backed by multiple generators and UPS systems feature N+1 redundancy and their generators are load banked twice a year.

US-Central data center located in Lansing, MI with the capacity of managing 33,000 Servers.
US-West data center located in Phoenix, AZ that has the capacity to manage 2,000 servers.
EU-Central data center located in Location: Amsterdam, NL that can manage the capacity of 8,000 servers.
Staging Environment
Once you are ready with your web application development. It's better to test on the staging environment before pushing it to the live server.

With Liquid Web, you can test your changes that you made on your application before making it live.
Managed WordPress Hosting
If you're running your web application on WordPress then Liquid Web hosting would be the ideal option for your business. All you need to do is focus on your business growth and Liquid Web will take care of all your WordPress application updates.
Migrate Your Site For Free
You can avail a Free Migration from Liquid Web hHosting. The team of experts ensure your site migration happens smoothly and you don't have to worry about downtime. They used some great automation tools and also updated their customers on what's happening at every single step.
Our Verdict – Liquid Web Hosting Review
There's a lot of features that we can discuss on Liquid Web hosting. But, that's it for now. Since, we are hopeful that this review will help you guys to make a better decision for your upcoming projects.
Let us know in the comment section if it helps you to decide on the better hosting solution.