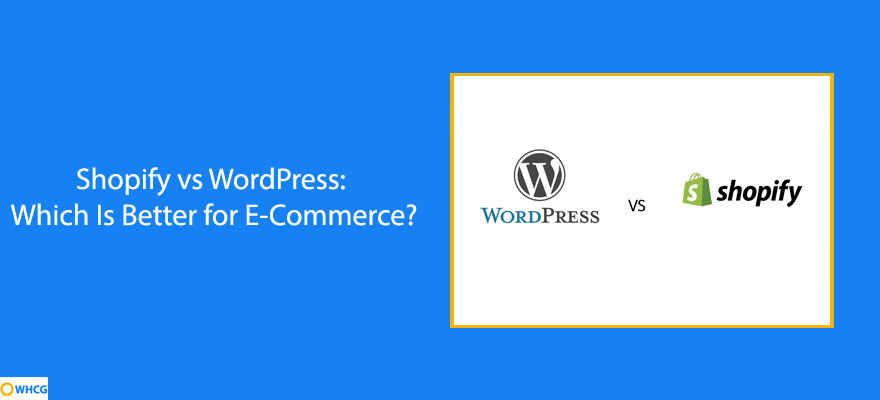 Shopify VS WordPress – which one is better for building an online store?
If the course of life didn't make you realize already, then we are sure the pandemic indeed must have taken a toll on your idea of making money. And, to think of it, the easiest way to do that does stand to be "Online Business."
Come to think of it; you do not have to set-up an office for that. No fixed timings are required, and you can work from the very comfort of your home, only upon building an online platform.
Instagram flooded with new business accounts springing up during the pandemic. Users tend to utilize loads of free time on their hands to make something and sell it, generating handsome amounts of money.
While most opted for the line of cooking and baking, others did try to commercialize other ideas.
In such circumstances, it only stands fair to choose the best site for eCommerce so that investment is less and profit is more several turns.
We are here to discuss and compare two top-of-the-list eCommerce sites, WordPress and Shopify, that allow users to set-up an online store or website for selling or content management, respectively.
Let's start the battle of WordPress vs Shopify by introducing you to their ideas of e-commerce.
Table of Content
What is Shopify?
History is a witness that whenever a person decides to find a universal solution to their problem, they yield never-ending profits.
The same is the case with Shopify. Tobi founded Shopify started over ten years ago when Tobi failed to find an open eCommerce platform to sell snowboards, with his then company "SnowDevil."
Instead of sitting around waiting, he decided to code-up such an online platform himself, and thus Shopify was born.
Shopify is an eCommerce software that allows users to set up an online store and sell their products.
Currently, it is one of the leading e-commerce platforms designed for small to commercial sizes. No matter which platform you choose, i.e., online, social media, in-store, or merely out of the trunk of your car, Shopify got your back.
How Is Shopify Different From Other Selling Sites, Such as Amazon?
It is different from other online marketplaces such as Amazon. The latter allows you to sell alongside other sellers, which leads to a simultaneous product comparison of various brands.
This may lead to the buyer deciding against your product for the same one, by another seller, at a better cost price or any other extra benefit.
With Shopify, your marketplace is personal and private. Being directed to your site means the buyer will now only check out your products without comparing them to others on-site. This leads to an increase in overall sales.
What is WordPress?
What started as a blogging platform in the early 2000s is now one of the most successful sites of e-commerce that people usually pay for to learn how to use it.
Currently, WordPress is described as one of the simplest and most popular means to enact your very own blog or website.
Interestingly and technically, WordPress software is an open-source content management system that enables anyone to use or modify it for free and manage critical aspects of your website without the need to code or even without knowing anything about programming.
This is why WordPress e-commerce is usually classified as merely the best way to build a website or website content.
Moreover, WordPress homes a vast number of business sites and blogs, but it's also the most popular way to create pretty much anything that you can dream up, to be a component of e-commerce.
WordPress is the jack of all trades, from portfolios, resumes, forums to social networking and membership sites.
Hosted WordPress
Hosting simply refers to the usage of a network and server to run your website. The software themselves usually does this, i.e., they stand host to your online business by providing a network and server.
With the intelligent choice of WordPress as your e-commerce server, scenes are revamped a bit, as WordPress hosting is optimized hosting to better cater to WordPress's performance and security needs.
This also makes it super-easy to get started with WordPress by typically including one-click WordPress installs.
Shared or Managed WordPress Hosting
The hosting can either be shared or managed. With shared hosting, your website shares the network and server with another website. This lowers the cost point, but it also comes with lower technical advancement.
Managed hosting is the feature that users give 5-star to without giving in a second thought. This is because managed hosting provides faster speed, server-side caching, better security, staging sites, and various concierge services.
However, this comes with an expense, and so, managed hosting plans are costly.
But remember that the extra money genuinely means that you spend less time and effort screening your website's performance and focusing more on your business.
Bonus Tip: Best web hosting for small business
Self-hosted WordPress
Contrary to previous options, you can DIY your hosting. This means you can set-up a network and server yourself and run your website or application through it.
Such users are fully responsible for the maintenance and upgrade of their site, in addition to building it from scratch.
Alongside all the hard work that goes into it, self-hosting also guarantees fool-proof security, practiced by businesses that cannot afford to be hacked in the long-run.
With WordPress, it's relatively easy to set up a self-hosted site.
All you have to do is:
Register your domain.
Sign-up for a web-hosting service.
Create a WordPress site.
Choose a theme.
Create content to your heart's contentment.
Launch your website.
Enjoy and manage a business that is self-created by every means.
With the basics described, let's get down to talking about Shopify vs WordPress for eCommerce.
What Sort of Users Are Shopify And WordPress Aimed At?
Shopify is a famous eCommerce builder designed solely to help people create their online stores.
Its audience is usually those with small startups, beginners at online commercialism, and those without good technical know-how.
Contrary to this, WordPress targets ambitious and task-driven tech-savvy individuals as the factor of Shopify vs WordPress WooCommerce intervention.
While Shopify doesn't require it, WordPress needs a plugin like WooCommerce to sell online but gives you the flexibility and ownership over your store like no other.
However, to use it to its strengths, it is essential to be ambitious and task-driven tech-savvy.
How Many People Use WordPress and Shopify?
According to the internet database, WordPress powers about 75-90 million self-hosted sites, while Shopify hosts over 1,000,000 stores.
These stats and word of mouth are enough evidence that WordPress eCommerce vs Shopify is indeed the heavy-weight battle of interest to internet business owners.
Shopify vs WordPress: Which is Better for SEO?
The Shopify vs WordPress SEO battle is also in favor of WordPress owing to the amount of freedom it gives to its users when creating, using, and managing its platform.
Due to having access to the leading plugin from Yoast, SEO in WordPress is better than Shopify. You may have difficulty finding your way around maximizing content monetization and attracting traffic to the site with the latter.
Hence, if your content is highly SEO-driven and confused between WordPress or Shopify, choose the former for the best results.
eCommerce Functionality in Shopify and WordPress
This section battles Shopify versus WordPress for real and discusses how to integrate Shopify with WordPress.
As the world continues to embrace online shopping benefits, sellers continue to find more functionality between Shopify or WordPress to settle for their business's ultimate best.
However, things become more manageable when the two very different platforms can be integrated.
With Shopify being on the lesser end of endless freedom of tools, you can add Shopify to WordPress to be at the receiving end of combined benefits, or you can opt for WordPress to Shopify migration if you want a more basic interface.
From a functional perspective, since Shopify and WordPress are two very different tools, it resorts to management areas that rule one over the other.
In terms of being online functionality, we render WordPress better owing to its praise-worthy interface. Hence if you are a Shopify user, you might consider using Shopify with WordPress after reading this article.
WordPress plugins ensure that users are getting the vaster theme and template content than Shopify can offer.
When you build a business with Shopify, your choices for aesthetic visuals may be limited.
WordPress overrules this by giving in options that you can customize to your will and, hence, legit create your dreams' business website.
Hence, if you agree with us and would like to use Shopify with WordPress, you can easily do so using the free eCommerce Shopify plugin or using Shopify buy button WordPress manually or opt for using Cart2Cart services.
Adding Shopify to WordPress fluids your business's functionality by giving better marketing and designing options and endless flexibility and customization.
However, if you decide to import a WordPress blog to Shopify, it may be a daunting task as mostly switching e-commerce platforms is. Follow the steps below to make this transition suck less.
Step 1: Construct and manage your basic administrative settings.
Step 2: Import WordPress blog to Shopify.
Step 3: Organize your products for better site management.
Step 4: Make fair use of the Shopify WordPress theme to make your website visually appealing.
Step 5: Set up your domain.
Step 6: Set up your shipping and configure your taxes.
Step 7: Set up a payment method.
Step 8: Ensure the right functioning by placing test orders.
Step 9: Invite your customers from previous sites to create accounts on your new site.
And, there you have it, WordPress Shopify integration is done with a few clicks and strategy.
Content Management in Shopify and WordPress
Content marketing and management is another domain that may lead you to migrate WordPress to Shopify or connect Shopify to WordPress.
According to Shopify vs WordPress Reddit, the right platform for unbiased popular opinion, users have rendered WordPress, the ultimate crown winner.
Content management does not only include arranging it aesthetically. It also deals with its marketing factor.
With content, comes the management of website itself, that requires good template themes, flexibility and cost point to be sustainable.
WordPress spoils its users with an innovative and effective interface and usage.
Integrating Shopify with WordPress has significantly increased, preferred, and reviewed as a plus point by thousands of economic e-commerce managers.
Moreover, Shopify for WordPress would only lead an already established online business to raise several points by migrating to a different host-site with better advantages.
How Much Does It Cost to Use Shopify and WordPress?
Let's discuss commercialism from an economic point of view comparing Shopify and WordPress.
While both the sites feature various pricing plans, a lot needs to be considered when choosing the best.
Look after your ease of use, level of usability, adequate customer support, and thematic options before investing.
Keeping in view all this, Shopify has numerous pricing plans, three of the most commonly availed amongst which are following:
Basic Shopify: Everything you need to start a new business for $29 per month.
Shopify: The complete Shopify experience for $79 per month.
Advanced Shopify: State-of-the-art features for a scaling business for $299 per month.
Shopify also features a free 14-day trial to choose and decide intelligently what you would want to work with.
However, considering all the similar factors with WordPress; The average price of a WordPress e-commerce site may be:
Annual hosting (managed): $350 each year
Premium theme: $150 one-off
Ecommerce integrations: $180 per year
Plugins: $100
Part-time developer guidance: $500-$2000
Hence, the battle of Shopify blog vs WordPress favors the former.
With WordPress, the direct costing is that of the hosting. Additionally, WordPress has its technical aspects that need to be learned from tech-savvy people against a cost.
This adds up to the investment of WordPress.
While we cannot undermine the numerous benefits that come with the higher price for beginners and small house-hold businesses, Shopify is the solution.
Shopify vs WordPress: Customer Help and Support
It is ubiquitous for users to undermine the need for prompt technical assistance and support when choosing an eCommerce platform.
Sure, you can learn and deal with a lot of this stuff via social media platforms now, such as YouTube, but it is always a plus point to know that someone got your back if you are stuck at any point.
Comparing both, Shopify is regarded as one of the best e-commerce platforms out there for customer support.
This is because when you buy a plan, standard support is already covered in the cost. Various support options differ from plan to plan as you are assisted via email on all plans except for Shopify Lite.
If you avail of the Lite package, you only receive chat and email support, which is still enough to get the necessary assistance you need for your website to be up and running.
Shopify also runs a handy help center and an endless range of community forums that you can browse to get answers. This makes the overall service easier to avail and get the hang of.
Unfortunately, WordPress doesn't benefit you in this way at all. Since it is a self-hosted platform, you're not going to get much support when using WordPress.
The most assistance you receive is via WordPress forums and customer sites.
If you want more immersive in-depth support, then you'll need to seek out and work with a developer that specializes in WordPress.
WordPress or Shopify for Dropshipping
For anyone new to this term, drop-shipping refers to the retail business in which the seller does not have any stock goods.
They rather accept the customer's order and forward it to a place of stock. It can be any other retailer, warehouse, manufacturer, or wholesaler who then directly delivers the order to the customer.
This is not an essential but a practical option for users who do not like to keep and manage content personally.
Shopify and WordPress both use easy plugin options to allow drop-shipping.
Oberlo is the most well-known drop-shipping platform of Shopify and allows companies to quickly and immediately find products to sell, add them to their store, and start making money.
Shopify WordPress plugins help and manage one's drop-shipping experience; the question of which one is the best depends upon the plugin you can work the best and most comfortable with.
WordPress or Shopify?
Concluding the battle of Shopify vs WordPress for eCommerce, the latter wins in aspects of providing better and faster solutions to building a business and is well versed with SEO.
However, it is comparatively costly, needs good technical know-how, and lacks remarkable assistance.
On the other hand, Shopify has a better market value in cost, easier to use, beginner-friendly, and technical assistance.
However, it provides lesser marketing options and requires more effort to manage content while maintaining a good site.
The problems can be resolved by considering Shopify WordPress integration.
Shopify on WordPress has lately been a widely suggestive method to upgrade your website's level; however, depending upon your ease and investment, you can go from WordPress to Shopify by following the instructions above.