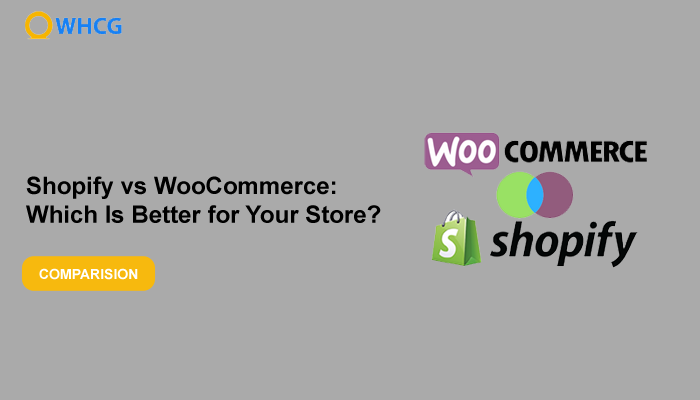 Are you wondering about Shopify vs WooCommerce, which one to choose?
WooCommerce and Shopify are two of the most popular and user-friendly e-commerce platforms available today. Both offer many advantages and may be used to establish an e-commerce shop. The best part is that you can build it yourself, without expert designers or developers.
In this post, we'll show you which one should you choose either Shopify or WooCommerce.
Since this is a comprehensive post, feel free to use these quick links to jump straight to the section you want:
Shopify vs WooCommerce Overview
Whenever you look for evaluations of WooCommerce or Shopify on Google, you'll come across an abundance of varied perspectives from various business owners.
While these considerations are valuable, the fact is that the decision between WooCommerce and Shopify will come down to a few key variations in functionality.
Beginners who don't want to deal with web hosting and hosting provider specifics can use Shopify. If you want greater control over your site and currently use WordPress, go with WooCommerce.
You should choose Shopify if you want an all-in-one e-commerce solution with plenty of amazing features and apps.
If you currently have a WordPress site and want greater control over your business, WooCommerce is for you.
What To Look for in Your eCommerce Platform
Many wish to build a successful e-commerce business and earn money while sleeping. Who wouldn't want a piece of the $4.88 trillion e-commerce pie in 2021?
Choosing an e-commerce platform is the first step, and you will need an e-commerce shop builder to create your ideal storefront.
Which e-commerce platform should you choose in 2021? What e-commerce platform characteristics create the greatest CRM and e-commerce SEO? Finally, which choice fits inside a budget? You can find all the solutions to these questions in this article.
So, let's dig deep into this.
Dropshipping
Let's talk about WooCommerce vs Shopify Dropshipping!
WooCommerce Dropshipping
Dropshipping firms like WooCommerce. Drop shippers may pay for WooCommerce plugins that allow quick product import, order fulfillment, and more. Most of those applications do the same thing. Dropship Me, with over 8000 active installations, stands out.
Shopify Dropshipping
Shopify now offers applications for numerous prominent Dropshipping markets. Dropified and Oberlo are two well-known examples. Whether you pick Printify or Yakkyofy for your Shopify store, you will substantially benefit from Shopify's extensive capabilities.
SEO
Let's see which one is good for SEO, so you can choose the best platform that is fully SEO optimized.
WooCommerce SEO
WooCommerce comes from a specialized blogging platform. WooCommerce users may optimize product pages using the WordPress editor by changing meta descriptions, alt tags, and other page components. Moreover, WooCommerce provides several SEO plugins, the most popular of which being Yoast SEO.
Shopify SEO
However, Shopify has certain SEO restrictions. Shopify users can't fully modify their URLs because Shopify has a strict URL structure. This platform also makes it tough to establish sub-categories.
Nonetheless, Shopify provides all the essential e-commerce SEO capabilities you need, and they're typically easy to utilize. Shopify SEO applications are also recognized for their ease of use.
Pricing
This is the main concern because it measures a lot.
WooCommerce Pricing
WooCommerce is an open-source WordPress plugin. But you need a domain name ($12/year) and hosting ($5-$25/month). You may require a theme ($59), plugins & extensions (from $25apiecee), and some development costs.
Of course, you may not require all of these capabilities, so that the WooCommerce cost may vary, but this should give you a decent idea.
Shopify Pricing
Shopify, on the other hand, is a hosted platform that includes everything. A whole package! No need to look for a hosting or theme supplier; Shopify has them all. Yes, there are monthly and annual options.
Shopify offers several plans starting from 9$ to 299$ per month. Please do proper research before choosing your plan.
Support Comparison
Support is very important if you're a beginner even you know everything about platform.
WooCommerce Support
WooCommerce, like most open-source e-commerce systems, lacks live chat, phone, and email support.
WooCommerce offers lots of resources for businesses that wish to manage their support strategy. This platform has WooCommerce Docs and a FAQ area where you can get solutions to most questions.
In addition, WooCommerce users may easily reach out to a huge network of peers, developers, and WooExperts for assistance.
Shopify Support
On the other hand, Shopify is more famous for its customer care support. They provide 24/7 call service alongside email and live chat services as well. Besides that, Shopify provides an extensive FAQ database and a helpful Shopify Forum.
Transaction Fee
This is an additional cost, let's see which one is good for the transaction fees.
WooCommerce Fee
Basic Shopify costs 2.9 percent plus $0.30 for each transaction, whereas Advanced Shopify charges 2.4 percent plus $0.30 per transaction, a difference of only half a percentage point.
However, Shopify's transaction fees aren't your only choice, and this Q&A should shed some light on the many options available to you.
Shopify Fee
There are no startup costs or monthly fees associated with WooCommerce Payments. For any transaction made using a credit or debit card issued in the United States, you will be charged 2.9 percent plus $0.30.
Frequently Ask Questions
Q: Is WooCommerce better than Shopify?
A: It is built on a drag-and-drop mentality, which makes managing an e-commerce business a breeze. Although Shopify is simple to use, when it comes to cost, it is more expensive than WooCommerce.
Q: Can WooCommerce handle 50000 products?
A: In general, WooCommerce can handle huge product bases and, when designed appropriately, can operate with 50K, 100K, or more goods.
Final Words
We hope this article brings you enough knowledge. As you see, there is a long debate on Shopify vs WooCommerce, which is better for your store. These comparisons are never black and white. When I chat with customers, my advice is always based on their unique situations.
Here are my suggestions based on your customer profile and expectations from your e-commerce platform. If you have any questions or any queries, please leave them in the comment section. We will try to provide more guidance and information to you to make a peaceful decision.
You can also check out our guide on How To Build a Website From Scratch in 2021 and Best SEO Content Checklist (13 Proven Tips and Tricks) to make your website SEO-friendly.