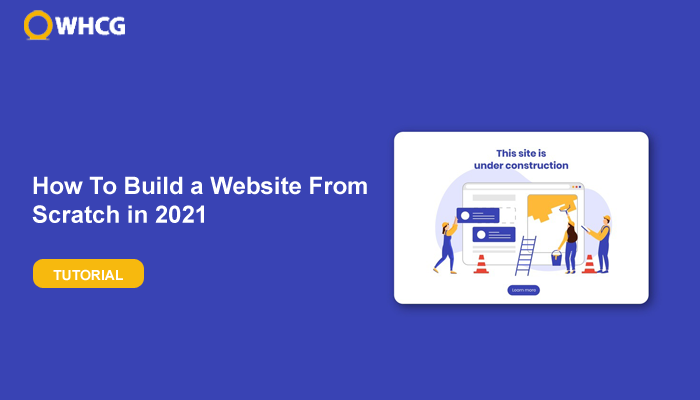 Do you want to know how to start building your website from scratch in 2021?
Creating a website is just like creating a house. Regardless of the idea you have, you need technical expertise to make one. You need a complete structure, a step-by-step process to build it.
Moreover, when it comes to creating a website, you have to know what type of tools you need. Do you want to use WordPress for your website? Do you want any other platform to create your website?
There are just too many questions to answer. The problem is that no answer is the right one. Each platform offers ways to create a website but when you are creating one, use WordPress because of the number of features it offers.
What Do You Need To Build a Website From Scratch?
Building a website from scratch is daunting. When creating your website, you will need a hosting solution, a CMS platform like WordPress, and a layout plan.
Here is the step-by-step process to building your website from scratch.
Step by Step Building a Website
Choose a Hosting Solution
First thing first, you will need a hosting solution of your choice. If you are looking for a hosted solution, you can choose Shopify, Wix, or Weebly.
If you are looking for a self-hosted solution, then a hosting plan like DigitalOcean or Siteground will help you get started.
DigitalOcean doesn't offer a control panel for site hosting. However, Siteground offers a control panel for site management that you can use to install any CMS with point and click options.
Install WordPress or a CMS of Your Choice
In Siteground, you can easily install WordPress by going to the external software list available. Once the WordPress CMS is installed on the server, you can configure it by creating a user and linking a database with it. WordPress is a widely used platform and it makes it easier for any user to manage their website without going into technical details.
Add Theme to Your WordPress Website
You will need to install a theme of your choice on the WordPress website and properly configure it. WordPress offers many free themes for users. However, you can use a paid theme if you want to add more customizations to your WordPress site or ecommerce store.
Once you have configured your WordPress theme, create a proper homepage. This is the page that users will see when they visit the website so make sure that it is attractive.
You will also need navigation menus on your website. These will tell the users the services/products/resources that your website offers to the visitors.
Does your site have landing pages? If you are looking to rank on search engines then you would need multiple landing pages. Landing pages tell about the features of your products or services. They tell the visitors about each feature or service that you are promoting and that is another way of increasing conversions.
If you want to create attractive landing pages, then improve the design. You can use page builders like Elementor, Beaver Builder, and others to create attractive landing pages without writing a single line of code.
4. Add Plugins to Your Site
Once you have properly created your homepage, added relevant menus, it is time to install and configure plugins.
A few plugins that should be on your WordPress website are:
Forms plugin
Analytics and SEO plugin
Cache plugin
Backup plugin
Page builder plugin
You can configure them on your website easily.
5. Add Advanced Features to Site
If you want any other advanced features on your website, then that should be done before launching the website.
A few examples of advanced features you can add to your WordPress site include:
Adding ecommerce functionality to your WordPress site
Adding a bulletin board or forum to your site
Adding multilingual functionality to your site
You can use plugins like WooCommerce, GTranslate, and others to add these functionalities to the site.
6. Launch and Promote Your Site
Promotion is the key to success. If you have been following the steps we have listed above, by now your website would be ready for launch.
It is now time to promote your website to masses.
You can use the following methods to promote your WordPress site.
Organic search: Start content marketing on your website with proper SEO to rank your website in search engines.
Paid marketing: Start paid marketing on Google adwords, Bing, and various others to get qualified leads through your website.
Social media: Start promoting your website on social media such as Facebook, Twitter, Pinterest, and even Instagram.
Affiliate marketing: Use other blogging networks and outreach agencies to rank your website, get better links, and grow your profits.
Cold Emails: Use Account Based Marketing (ABM) to get qualified leads for your products or services.
Frequently Ask Questions
A list of frequently asked questions to help you build your website from scratch in 2021.
Q: How much does it cost to build a website from scratch?
The cost to build a website from scratch depends on the type of WordPress website you are planning to create. Basic websites for blogging or affiliate purposes won't cost much. The only thing you will need is the hosting solution. If you are tech-savvy, you can install the WordPress core, theme, and the plugins required to get started.
If you need an ecommerce store, the cost will be higher. WooCommerce plugin is free but you will require a payment gateway, a premium theme worth $50, and other relevant plugins that will be required to set up your WooCommerce store.
That said, the cost of WordPress & WooCommerce websites can be around $100 to $500 per month.
Q: What is the best tool to create a website?
The best tool to create a website from scratch is undoubtedly WordPress because it is completely free to use. Anyone with even the basic knowledge of WordPress can easily create and launch a website of their choice.
Building a Website From Scratch
We hope this article has helped you build your first website from scratch in 2021 using WordPress. We have shown everything you will need to create a website including a hosting solution, WordPress CMS, theme and plugins.

If there are any questions that are still left unanswered, please tell us about them in the comments below.