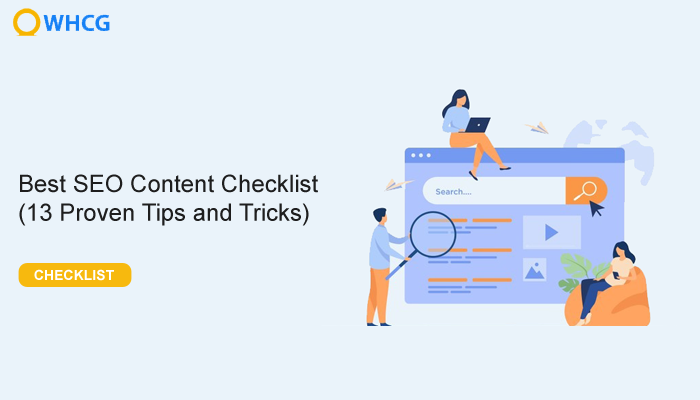 Looking for an SEO content checklist to help boost search engine rankings and drive more traffic to your WordPress site?
Content is the king that helps increase your website's reputation and helps visitors convert into customers and fans.
However, just adding content to your website will not get your website a good standing in search engine results. You also need to make sure the content you add follows the best optimization practices recommended by search engines (mainly Google).
In this post, we'll show you the best SEO content checklists that can help make your website rank higher than competitors.
Since this is a comprehensive post, you can use the quick links below to jump to the sections you want to read:
1. Detailed Keyword Research
Keyword research is a crucial part of SEO. Adding the right keywords to your website helps Google understand what your content is all about and helps to improve your website ranking on Google search results.
Best of all, keyword research supports not only content creation but also helps all marketing and promotional activities, including email marketing.
In particular, keyword research helps you answer the following questions:
What information is the target audience looking for?
Which keywords are they searching for most?
How to Find the Right Keywords
A good rule of thumb is to use keywords that have low difficulty and high search volume. These keywords are easy to rank for, and the high search volume helps you receive good traffic on your website.
Here's the example:
If you search "WordPress themes," you'll get millions of search results.
If you search for "Portfolio WordPress themes," you'll likely get hundreds of thousands of search results.
If you search for "Free Portfolio WordPress themes," you'll get much fewer results that more closely match what you're really looking for.
From a visitor's point of view, the more context you add to the search terms, the better the results you'll get.
There are several free and paid keyword research tools in the market. However, we recommend SEMRush, a great tool that helps you find the keywords to target the right audience.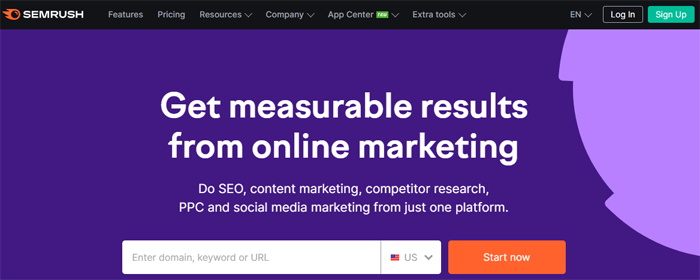 Bonus Tip: AlOSEO now seamlessly integrates with SEMRush's additional keyphrase feature. For more details, check out how to integrate SEMRush with AIOSEO.
Now, let's move to the most critical aspect of this SEO content checklist, the blog post topic.
2. Good Topic Research
Topic research becomes easier when you have already finalized the keywords. Start by searching the keyword on Google and see the results that come up. These results give you an idea of what people are looking for.
Let's assume the target keyword is WordPress Plugins, search this keyword on Google and see what articles come up in the top results.
Here's a quick example: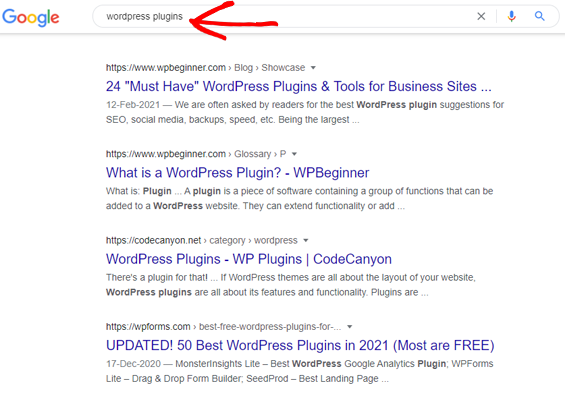 As you can see, the top results give you a clear idea of what others are producing on the topic.
Following the example, you can write on the best WordPress plugins and tools or an informational guide on WordPress plugins and why you need them.
Another way to find good topics is using a tool like AnswerthePublic. You just need to enter the targeted keyword, and it presents a list of topics.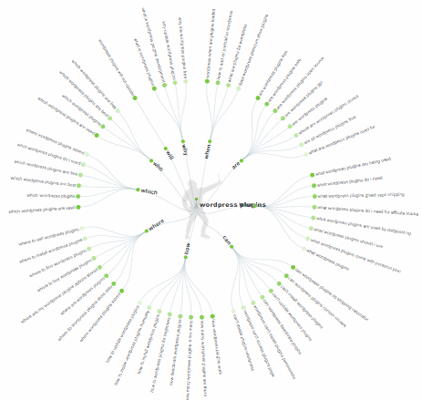 You can click any topic, and it will show Google search results in a new browser tab. This lets you quickly see the questions people are searching for and how you can answer them with relevant content.
See the quick example.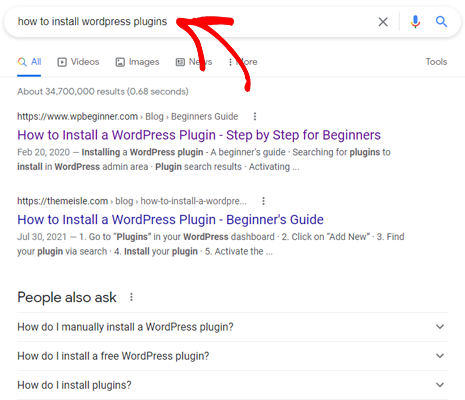 Now, let's move to the importance of having a good content structure.
3. Content Structure Is Important
Content structure is an important part of SEO. It helps your visitors quickly read the content and grab the core information.
Before writing SEO content, you need to create a table of content that you want to write about.
For instance, for this post, the table of content could be: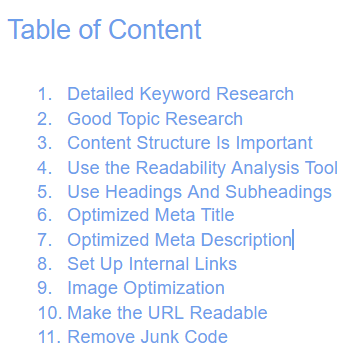 You also need to make sure everything is properly organized, including:
URL: You need to use an SEO-friendly URL that helps your visitors and Google to understand what your content is all about.
Meta Title and Description: This allows you to tell Google more about the content of your posts and pages.
Headings: Headings let users understand what a section or paragraph is about. Readers would like to scan the overall content of your blog post and decide which section they're going to read.
And more.
This allows the visitors to quickly understand the important points shown in the content.
You can check out this guide on Squarespace vs GoDaddy 2021: See How They Compare and see how we created this post with a proper structure.
4. Use the Readability Analysis Tool
When it comes to SEO, readability is another crucial factor for visitors and Google. Content that is easier to read often ranks higher than content that's difficult to read.
That's why you should always break up your content with shorter paragraphs, images, subheadings, bullet lists, and anything that will keep the reader glued to your content and stay on your site.
AIOSEO automatically analyzes readability issues and makes suggestions on improving your content in the Page Analysis section. Click on the Readability tab, and it will show a list of what you have done well and what needs to be improved.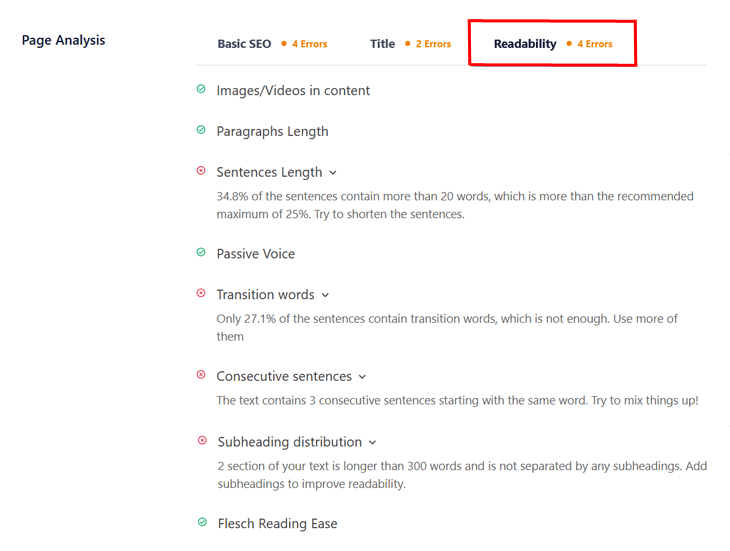 5. Use Headings And Subheadings
A heading like H1 is perhaps the most important part of your content. The headline tells the visitors what the content is all about and forces them to read more.
When writing a title like H1, make sure it clearly indicates the central idea of the content and the value it delivers to the readers.

Subheadings like H2 or H3 are a great way to break the content into sections and set up a logical structure for your content. Users should be able to navigate the post while clearly understanding the information included in each section.
More importantly, you can easily make your content readable and add relevant keywords that allow the search engine to understand what the content is all about. This ultimately boosts the website's search engine rankings.
Tips to Creating a Good Heading
Use the focused keyword in the main heading.
Write the heading in the form of a question that the users are asking the search engines.
Try to use numbers when writing a listicle article. It helps drive more traffic to your content and sets the right expectation.
Keep it short and understandable.
6. Optimized Meta Title
The meta title is basically the SEO title, which is one of the most important SEO factors that Google uses to decide what your content is all about and whether to show your website in the search results or not.
SEO title shown in the search engine results pages (SERPs) on Google and other search engines. It helps you rank your keyword or keyphrase in Google search results and improve CTR (Click-through rate).
The best practice is to optimize the meta title using the All In One SEO plugin. Let's see how easy it is.
After installing and activating the AIOSEO plugin, go to any page or post, and from there, the AIOSEO Settings. Add the meta title to the Page Title section.
You can use smart tags to automate your site title. For more details, see our guide on how to use smart tags in the title and description.

You can also type in your own SEO title in the Site Title field.
AIOSEO recommended using a maximum of 60 characters for the meta title.
Now, let's move to the description part.
7. Optimized Meta Description
A meta description is a brief description of what your page is about. It doesn't appear on your website posts or pages for users to see. However, search engines and browsers can use them.
Meta descriptions are similar to the snippet that highlights the major idea of the content in just a few words.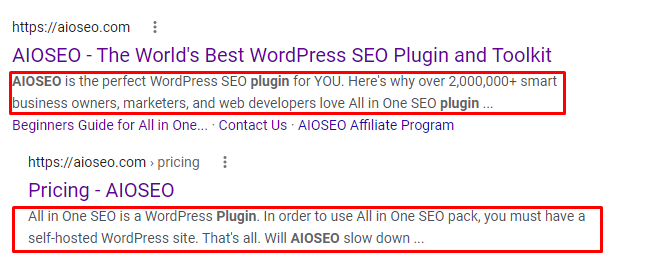 Here're some tips for writing the perfect meta description.
Write a short description in a conversational tone.
Describe the central idea of the content.
Don't exceed the 160 character limit.
Add the primary keywords in the meta description.
For more details, see our guide on how to write a meta description.
As said earlier, you can easily optimize your meta description with the help of the AIOSEO plugin.
AIOSEO has added pre-installed smart tags with different variables you can use.
In the meta description section, you can click any of the smart tags. Let's assume we clicked on the + Post Excerpt smart tag.

AIOSEO will then automatically add your Post's excerpt as a meta description.
You can also type in your own SEO description in the Meta Description field.

8. Set Up Internal Links
Internal links help users to go from one page to another on your website. Having internal links helps search engines discover content on your website and improve your site ranking in the search results.
Moreover, internal linking is a great way to show the relationship between the new and old posts. It also allows you to pass relevant link juice (link equity) to your older articles.
The Page Analysis feature in AIOSEO lets you know if you have forgotten to add Internal Links or if you need to add more to improve the SEO.

9. Image Optimization
Image optimization is very important for SEO because Google considers and evaluates images within the content. When adding an image in a blog post, make sure that they're not blurry and the size is suitable for the website's design.
Make sure you have selected the correct image format that offers the right mix of details and compression. You can find royalty-free images to use from Canva or Pexels. But be wary of using images with copyright.
For more details check out our guide on how to best optimize images in WordPress.
10. Make the URL Readable
The URL should contain the primary keyword and should be easy to read and remember.
See the quick example of good and bad URLs.
Good URL Example: https://webhostingcouponguru.com/dropshipping-websites-in-india/
Bad URL Example: https://webhostingcouponguru.com/23fdsklsjdfskl43/
You can see the first URL is clear and easy to understand. However, the second URL is too long and not optimized for SEO.
11. Remove Junk Code
While drafting the post on your WordPress website, you can see a lot of junk code such as spam, nbsp; and more.
This happens when you copy and paste your content from a Google doc or MS Word document and paste it into the WordPress editor.
Here's a quick example: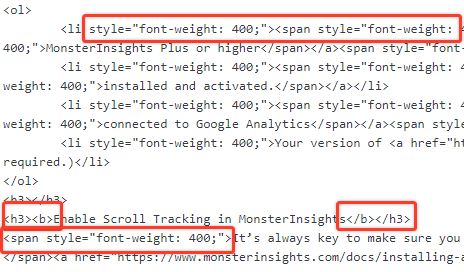 The best practice, to remove the junk code from the website, and you'll see traffic going up within days.
Final Thoughts
To summarize this blog post SEO content checklist, we want to highlight some essential ideas.
Always check the preview of the post before publishing to see any changes you can make easily.
Next, focus on keyword research to discover the intent behind the keyword.
Finally, don't forget the quality of the content. It would be best if you made sure the quality of your content is excellent and delivers value to the visitors.
With that said, we hope this article helps you use the SEO content checklist in your content creation process. If you follow these SEO content writing practices, you'll boost their rankings and drive more traffic to your website in no time.
You may also want to check out our guide on How To Build a Website From Scratch in 2021.
Best of luck in your writing endeavors!