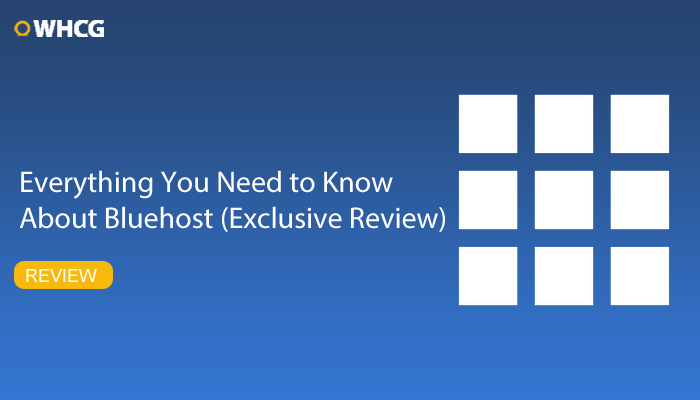 Are you wondering about Bluehost hosting? Do you know why this is the number one choice for shared hosting users?
Millions of users are using Bluehost nowadays just because it is one of the most popular shared hosting providers in the market.
In this post, we'll show you the complete Bluehost review, so you can understand what is it and why Bluehost is people's first choice.
Let's dig in.
We have created a table of content, so you can easily jump into the section that you want to read.
Before going in-depth, first, you need to know what is Bluehost and why you need to choose it. So without further delay let's move to the Bluehost review.
What is Bluehost?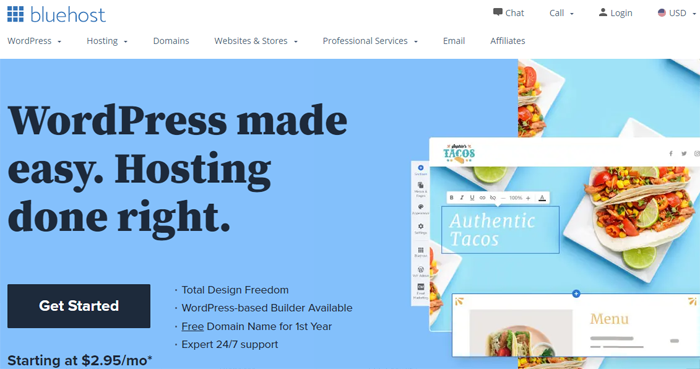 Bluehost is one of the best web hosting providers. Matt Heaton is the founder of Bluehost, which started in 1996. Before Bluehost, he created two other web hosting and that 50megs.com and 0catch.com. Finally, he launched and set up Bluehost in 2003.
Matt continuously works on Bluehost and year by year, and in 2009 he launched a new feature that is CPU throttling that offers CPU usage and server resources at one time.
Not only this, in 2010 Bluehost was acquired by Endurance International Group, and in 2011 Matt Heaton announced that he is stepping down from the CEO position and focus on the hosting platform design and technical structure.
That's not all, in 2013 Bluehost hosting introduced VPS and dedicated server hosting, and a lot more features.
Pros And Cons of Bluehost
| Pros | Cons |
| --- | --- |
| Easy to set up and deploy | Website speed is a little slow |
| Fully affordable for small and medium businesses | Sometimes support is not up to the mark |
| You have the ability to have your own domain | Although their upgrades are generally awesome, when the GUI changes, it can be a challenge to find what you are looking for (i.e. "where did that go?") |
| Great customer services with chat and call options | Sometimes the login page does not function properly |
| SSL included all of plans | You have to purchase hosting for the whole year instead of being able to pay monthly |
| Tech details are knowledgable | The free versions of widgets and add-ons are limited |
| You can set up emails easily | While Bluehost hosting offers good security, it has had some security breaches over the past year |
| Keeping their tools up-to-date |   |
| You can easily transfer your domain name |   |
| The sign-up process is easy |   |
| A large pool of widgets is available |   |
| The control panel is easy to navigate |   |
| Reliable web hosting |   |
| Billing is never a hassle |   |
| Numerous add-ons are available, such as G Suite, Spam Experts, SiteLock, etc. |   |
Bluehost Features
When it comes to features, Bluehost offers a great number of features that we'll show you below.
Features of Bluehost
It offers unlimited disk storage and unlimited domain hosting.
You can choose a free domain name for one year.
It's support international domain name, this means you can use your domain worldwide.
It's offers 3 different webmail solutions, also you can set up unlimited emails for your business.
Parked domain, subdomain, addon domain, all are unlimited.
You can use this Cpanel and FTP access, so you can customize your site using FileZilla.
It's offers free SSL and paid SSL, that you can use as per your need.
It allows you to create WordPress staging sites for your clients.
You can set up CDN that is free for all plans.
It offers an updated PHP version and allows you to customize PHP.INI files.
It's comes with an NGINX cache.
It supports multiple applications including WordPress, Joomla, Drupal and more.
It has 24/7 support online and the techs that are knowledgable, unlike GoDaddy.
Transferring a domain name was super easy and saved me money on the domain name and domain privacy renewal.
Bluehost Hosting Types
Bluehost offers different types of hosting, which we'll discuss in the letter. Bluehost is good for small and medium businesses just because it's a cheap hosting provider.
Let's see what hosting does offer.
Bluehost Shared Hosting

Bluehost shared hosting is best for beginners who have a low budget and simple websites. It is best for bloggers, store owners, and all kinds of small and medium businesses. 
Shared hosting means all domains are shared in the same server resources, such as RAM (Random Access Memory) and CPU (Central Processing Unit). It comes with hosting tools such as WordPress, website builder, email service, and more.
However, the price is low because servers are shared so the cost will reduce. Shared hosting is a good option in the starting stage, however, if you have a large business then you should go with dedicated hosting that we'll discuss in the next section.
It's ideal for all kind of businesses that doesn't have a large amount of traffic.
Bluehost Dedicated Hosting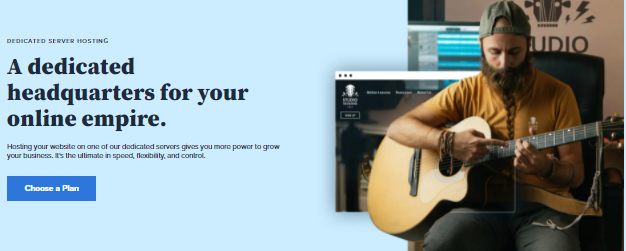 Bluehost dedicated hosting is best for those who are getting a large amount of traffic and sales. Dedicated means everything is dedicated, which means the server you are bought is totally yours, no other site will be hosted on that server.
From the admin panel to the advanced technical options, all is yours. Dedicated hosting pricing is very expensive also you need a huge amount of technical knowledge to set up dedicated servers.
Bluehost VPS Hosting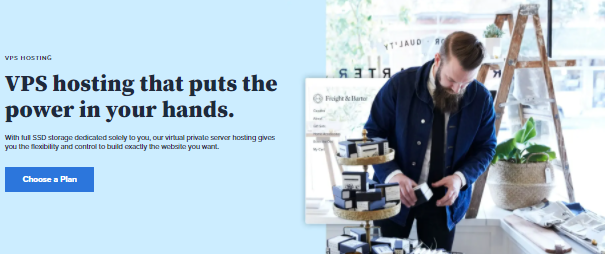 Bluehost VPS (Virtual Private Server) hosting is the middle ground between a shared server and a dedicated server. VPS is great for those who need more control, but don't necessarily need a dedicated server.
VPS is best for those users who want a dedicated server without any technical knowledge. VPS hosting offers its users to customize the server including storage space. However, you're not able to handle high traffic levels and spikes in usage meaning that the website speed and performance can still be affected by other sites on the server.
Bluehost Reseller hosting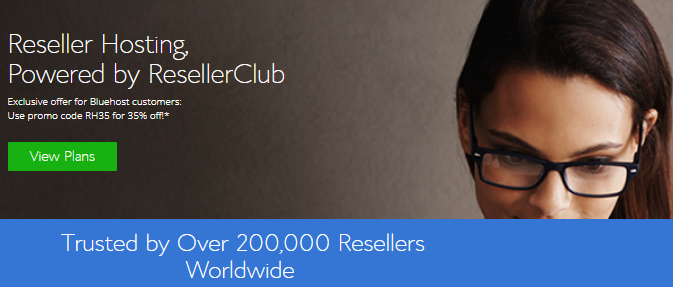 Bluehost Reseller hosting allows their users to host their client site on their server and make their own hosting businesses. This allows you to make a healthy profit and charge your own customers whatever fees you want.
The Reseller plans are designed for you to earn money and are often the least expensive and easiest way to start a hosting business.
Bluehost Domain Search
If you're a newbie and you hesitate to choose a domain and hosting to different providers. In that case, you can choose the hosting providers that offer domain services as well. It offers to host plus domain so you don't need to go to any other provider to buy a domain.
You can choose any domain as per your need and buy the hosting plan at the same time. This will save you time and money.
While using Bluehost you can find any type of domain such as:
.com ($12.99/1st year)
.net ($14.99/1st year)
.org ($9.99/1st year)
.tech ($4.99/1st year)
.co ($27.99/1st year)
.blog ($22.99/1st year)
.website ($1.99/1st year)
.me ($17.99/1st year)
Bluehost Domain Features
It allows you to manage your domain easily.
You can use the Auto-Renew option, which will protect your domain.
It offers automatic domain redirection.
You can get expert support whenever you'll be stuck.
Bluehost WordPress
WordPress is by far the best CMS (Content Management System) in the market. The market shared of WordPress is more than 42% worldwide. In addition, there are many themes and plugins that you can use in your WordPress website and make your site good-looking and responsive.
Most of the hosting provider offers WordPress hosting including Bluehost. Let's see what it offers.
Bluehost Website Builder
Bluehost website builder is one of the powerful tools that are for everyone from beginner to pro. You can easily create your website or eCommerce store using website builder. It allows you to make your site user-friendly.
You can also check out 8 Best Free Website Builder for Small Business (Compared).
Moreover, the website builder is fully responsive, which means your site will be perfect on every device such as mobile, tablet, and laptop, or computer.
That's not all! You can also get more features such as:
1-Click WordPress installed
Custom CSS
Stock Image Libary
Custom fonts
Live Editing
24/7 support
And more.
Bluehost WordPress Hosting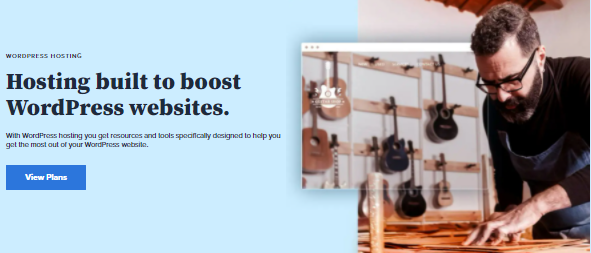 As earlier said, WordPress is the best option for creating any kind of websites such as blog, eCommerce store, startup, or any kind of small and medium business.
Bluehost WordPress hosting offers a great number of features such as:
Automatic Installation: It offers automatic WordPress installation which means you don't need to install WordPress manually.
Free Domain: You can get a free domain for 1-year, after a year you need to pay for the domain.
WordPress Update: You can get the option to automatic WordPress update. This means you don't need to update your site plugins and themes update manually.
Secure Login: While WordPress comes with simple credentials, it helps you to choose secure login credentials.
High availability: Full redundancy throughout the platform delivers better than 99.9% uptime.
SSL Certificate: You'll get a free SSL certificate that'll make your site secure and reliable.
Real-Time Backups: You can take a daily backup of your site this means you can upload backup whenever your site will lost data or corrupt files.
Security Plugin: It offers to build security plugin and that is Jetpack – one of the most powerful security plugins in the market.
Free Migration: It offers free site migration, this means you can transfer your site from different hosting to Bluehost.
And more.
Bluehost Managed WordPress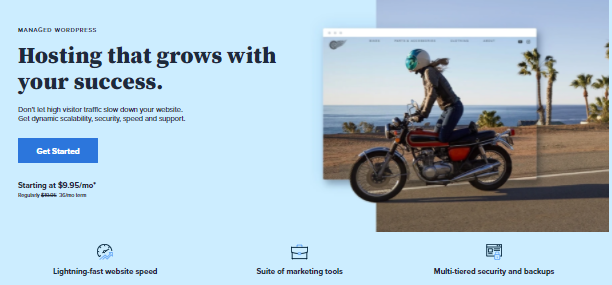 Bluehost hosting also offers managed WordPress hosting that will make your site secure and reliable. Besides, In their managed hosting plan you'll get:
Multi-layered caching to boost speed
Advanced analytics
Advanced security including auto-updates
Centralized social media control
In addition, it comes with marketing tools that help grow your business, it also gives you SEO recommendations that will boost your website traffic and sales.
Bonus Tip: How to Increase Organic Traffic to Your Website (2021)
It also allows you to choose thousands of free themes, you can pick one that suits your style and start building.
Bluehost WooCommerce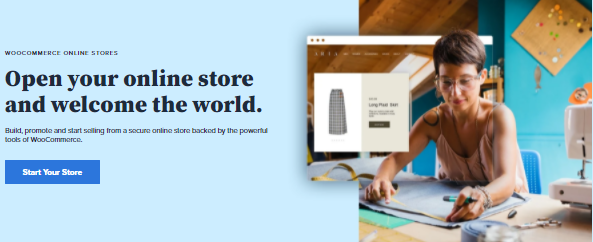 You can also create your eCommerce store if you're a beginner and you don't have the knowledge to launch then you don't need to worry about it. The support team will help you to set up your online store, add products, customize features, and more.
Furthermore, You can create your online WooCommerce store using powerful features such as:
Free SSL and free domain
Optimized your site speed using caching service
You can easily monitor customer behaviors and increase sales
Unmetered Bandwidth that allows you to grow your traffic without slowing down your site.
And more.
Additionally, you can also get more tools for greatest success such as:
PayPal Pro
Xero
UPS Shipping
Product CSV Import Suite
Table Rate Shipping
Stripe
ShipStation
Premium Plugin Bundle
Currency Converter Widget
And a lot more.
Bluehost for Websites and Stores
As said earlier it is good for every type of business.
Bluehost for Website
No matter what website are you launching, it is the perfect choice for every website. Whether you are running a blog, coffee shop, real state service, or any other business, it will fit all of your businesses.
Bluehost for Stores
For instance, you're running a local store in your specific city and you want to grow your business. In that case, you can choose where you will get all the hosting requirements as well as domain.
Moreover, you can create any kind of WooCommerce based eCommerce store and run your business worldwide online.
Bluehost Hosting Email

Email is one of the best ways to drive your users into your business. It also adds credibility by being connected to your domain name.
Besides, it offers Microsoft 365 that gives you a professional Bluehost email address and a seamless way to collaborate with your team. You can also connect to multiple apps anytime anywhere such as:
Word, Excel
PowerPoint
Outlook
And more.
All email plans come with:
Microsoft 99.9% Uptime Guarantee
Security and Disaster Recovery
Automatic Microsoft Updates
Microsoft Outlook Web Access
24/7 Expert Support
Bluehost Affiliate Program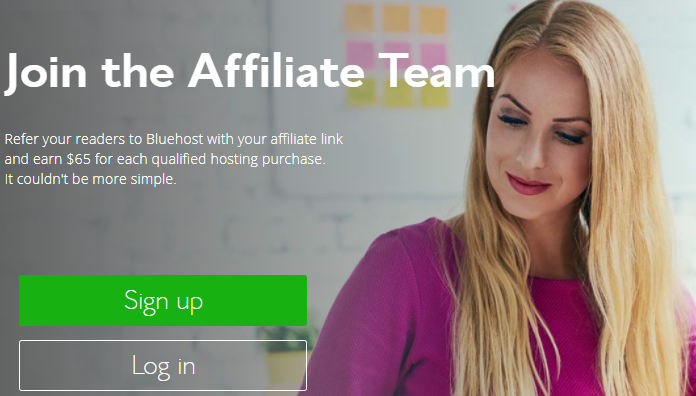 There are many hosting companies that have the highest paying affiliate program with payments from $60 to $130. It has over 2 million websites and that's why it is the No 1 shared hosting provider in the market.
Apart from the affiliate program, it offers $65 for each qualified hosting purchase. The affiliate program is very easy to set up and customize. 
Research said, Over $5 Million was paid in commissions last year alone.
In other words, If you want to be the richest person, this is a great opportunity to promote Bluehost hosting and lots of commission.
Bluehost Pricing
It offers different pricing plans, we have listed down hosting plans in a table, so you can easily understand.
Bluehost Customer Service

Whether you are a beginner or pro you must need customer support until or unless you'll be stuck somewhere. Every hosting provider offers customer support but not all offer great customer support. 
Some companies said that they will give 24/7 support but they don't offer that. While it offers a great number of features, it also offers great support as well.
You can contact anytime anywhere. Using Bluehost you'll get:
24/7 Live Chat Support
Tickets Support
Call Support (Phone Number (844) 303-1810)
Frequently Ask Questions
Q: Who owns Bluehost?
A: Matt Heaton started Bluehost hosting in 1996, but in 2010 Endurance International Group accrued Bluehost.
Q: Is Bluehost hosting good for beginners?
A: Bluehost hosting is good for beginners because they offer a great hosting service that is beginner-friendly. If you are starting your business in a very basic lavel then this hosting is perfect for you.
Q: How to cancel my Bluehost hosting account?
A: The Bluehost hosting account cancelation process is very simple, you just need to navigate Products » Account. Click the renew sub-tab select the Do Not Renew radio button, select a reason, and then click continue.
Q: How to install SSL certificate?
A: Installing an SSL certificate is pretty simple, you just need to navigate My Sites » Manage Site » Security and then turn on the toggle button.
Q: How to transfer the domain to Bluehost?
A: To transfer the domain to Bluehost, you need to navigate the Bluehost control panel  » Domain  » Transfer. For more details check out the guide on transfer your domain to Bluehost.
Q: How to change the primary domain on Bluehost?
A: To change the primary domain on Bluehost, we would suggest you follow this guide to change the main domain.
Q: How to update PHP Bluehost?
A: To update your PHP version on Bluehost, you need to:
Navigate the Software section, then click on the MultiPHP Manager icon.
Select the version of PHP you would like to use; 7.0, 7.1, 7.2, or 7.3.
Click Save Changes or Apply to finish the update
Q: How to start a WordPress blog on Bluehost?
A: Starting a WordPress blog on Bluehost is not rocket science. You can easily start a WordPress blog with just a few clicks. The best thing is that Bluehost offers WordPress hosting that you can use and create any type of business.
Check out the guide on How to Build a Website From Scratch in 2022
Q: How much does Bluehost cost?
A: We have added a separate section where we mentioned all Bluehost costs. The starting price of Bluehost shared hosting is $2.95 per month.
Q: Is Bluehost better than GoDaddy?
A: Bluehost is better than GoDaddy, but GoDaddy is also a great number of users, the domain options are more popular than Bluehost. Millions of users are using GoDaddy to buy a domain.
For more details check out the comparison GoDaddy Vs Bluehost.
Final Words
That's all!
We have mentioned everything about Bluehost hosting and domain provider that helps you to understand whether you choose it or not.
Bluehost hosting is the best choice for beginners who want to start their online businesses. It's cheap and easy to use.
What are you waiting for? Sign up on Bluehost hosting and start your journey today.
You can also check out the InMotion Vs Siteground comparison.
Bonus Tip: Want to make your site SEO-friendly? Check out our guide on Best SEO Content Checklist.